Members Page
2018 Online Registration will be available soon.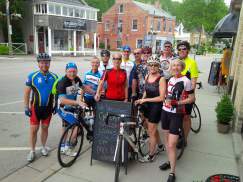 London Cycling Club welcomes new members and you may sign up and join anytime from this page using the link below. See the About Us page for details of our Tours and Events that are open to our members and on this page read our FAQ, our Member Safety Policy and the LCC By-Laws using the links below.

Also here Members may access an Interval Timer for Training, the OCA Accident Form should you need one, RidewithGPS instructions and also instructions on how to print Maps from the RideWithGPS site.

Sign up for 2017 here : 2017 Membership

2017 Membership Fees
Individual Membership - $30 per year, (OCA Affiliate Insurance is an additional $40)

Note regarding "Guest Membership" - OCA rules do not allow guest riders but Riders from another OCA affiliated Club may ride with us as long as they can prove they have OCA insurance at the start of the ride.
If you have any questions please contact the club at: londoncyclingclubinfo@gmail.com for more information. Sorry but we do not accept cheques for Membership payment, you must join online using the link above.
Due to strict Ontario Cycling Association insurance regulations, all members are required to sign (online) waiver when they join the club.